Dickey's Jalapeño Rosemary Steak Seasoning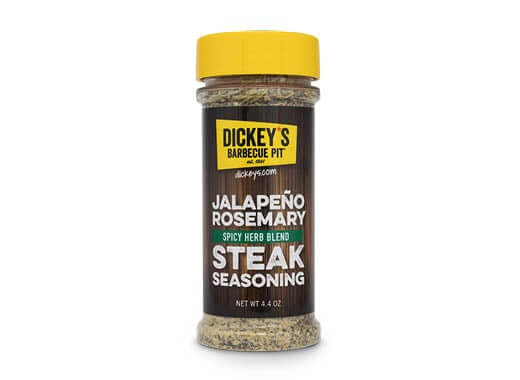 Spicy Herb Blend
The perfect steak seasoning that has just the right amount of kick to it.
Spicy Herb Blend. Elevate your favorite selection of red meat or poultry by using this sophisticated seasoning with a hint of spice.

Great with: Beef, Poultry, Fish.
To get the perfect taste, you must use the perfect blend of rub and spices. After many sleepless nights of mixing herbs and spices, we found the perfect blends to enhance the flavor of our meats and sides.
4.4 oz.
Ingredients
Salt, Spice, Garlic, Onion, Rosemary, Lemon, Mustard, Jalapeño, Worcestershire Sauce, CMC Gum, Salt, Spices, Chili Pepper, Mustard Flour, Malic Acid, Onion, Natural Flavors, Silicon Dioxide, Soybean Oil