Dickey's Jalapeño Cheddar Kielbasa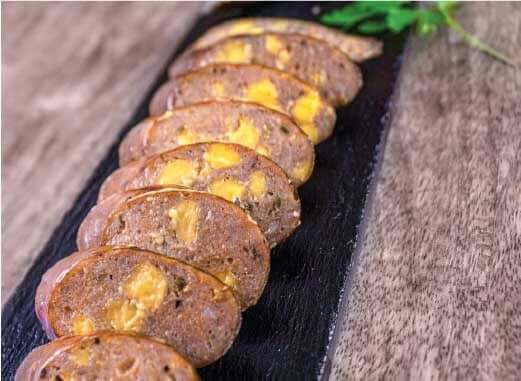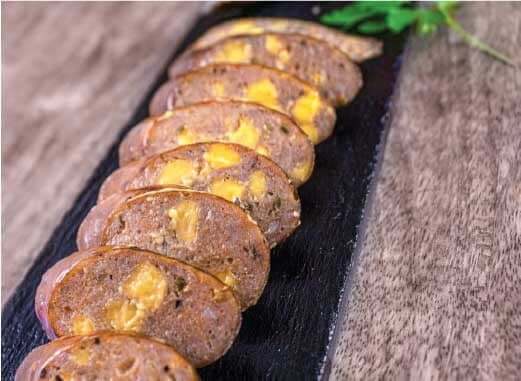 Our Jalapeño Cheddar Kielbasa is a flavorful southern-style sausage with the perfect amount of spice and cheese.
Dickey's Jalapeño Cheddar Kielbasa (12 oz.)
Barbecue at Home utilizes premium ingredients in all of our recipes, like our cheese. One of the top favorite sausage is this the Dickey's Jalapeno Cheddar Kielbasa, which is the most popular sausage and it goes out fast! This is the one sausage that you need on your grill for your BBQ next party or event. The Jalapeno Cheddar Kielbasa makes a great appetizer to tease your guests' tastebuds all right before the main entrée arrives. And you know what happens to happy guest? A happy party!
This product from Barbecue at Home is a blend of coarse ground choice meats, with cheddar cheese, and jalapeño creating a signature bite. A rich blend of slow-smoked lean pork and beef, diced jalapeños, and cheddar cheese perfects our sausage recipe. The jalapeños and paprika spice are a tad mild and not too spicy for the average person. In combination of these ingredients, the result is abnormally delicious! Dickey's Head Chef Phil has definitely created a masterpiece. Dinner will be ready in little time because these are pre-cooked and smoked with the right temperature until perfection.
They come freshly vacuum sealed in a 12 oz. package that makes a great gift idea. The best gift ideas are something delicious such as these Jalapeño Cheddar Kielbasa. Gift these Jalapeno Cheddar Sausage for Christmas, Thanksgiving, or even birthdays. They will be a personal favorite for that special someone who receives it. He or she will be grateful for the gift and keep the gift of giving alive. You can also find this magnificent Kielbasa sausage in the Cheese Lovers Smoked Sausage Box along with 9 other Cheesy Smoked Sausages. And for those who love to grill during Tailgate season, check out The Tailgate Meat Delivery Box with Dickey's Jalapeno Cheddar Kielbasa included.
This Kielbasa flavored smoke sausage has roots in Polish cuisine, also a staple of Poland. They are typically U-shaped sausages made of a combination of beef and pork spiced with garlic, pimientos, cloves, marjoram, and then smoked. Check out how it is used in this Kielbasa Sausage Soup recipe that is wonderful for the wintery season. Kielbasas are so versatile because they can be enjoyed any time of day or season in addition to a quick re-heat time. Everyone should stock up on some pre-cooked Kielbasa in their freezer.
---
How To Heat Cooked Sausage
Our smoked sausages should be heated slowly to allow the oils to come to the surface without the skin bursting.
Cooked Sausage on Smoker
Pre-heat pellet smoker to 275˚ using a competition blend.
Place sausages on the smoker for 20-30 minutes until an internal temperature of 165˚ is reached.
Cooked Sausage on a Grill
Pre-heat grill on low heat.
Place sausages on grill away from direct flames and cook for 10 minutes
Flip and allow to cook until 165˚ is reached.
Cooked Sausage in an Oven
Pre-heat oven to 275˚.
Place sausages on a lightly oiled sheet pan and place in the oven.
Flip after 10 minutes to get color on both sides of sausage.
Cook until 165˚ is reached.
Ingredients
Pork, Beef, Pasteurized Process Cheddar Style Cheese, Water, Pickled Jalapeno Peppers, Spice Blend, Ground Mustard, Paprika, Nonfat Dry Milk, Dried Diced Jalapeno Peppers, Curing Agent