Dickey's Chili Pork Butt Rub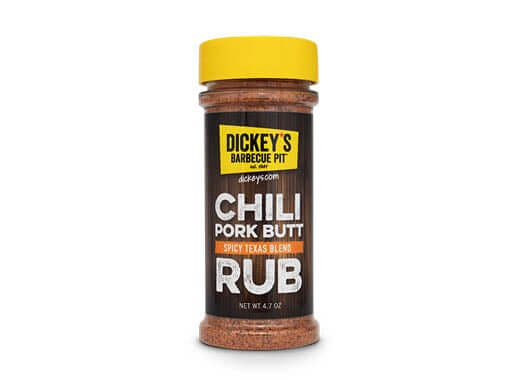 Spicy Texas Blend
With just a pinch of sweet heat, this rub leaves your taste buds wanting more.
To get the perfect taste, you must use the perfect blend of rub and spices. Rub into pork or poultry before cooking for a kick of flavor.
Great with: Pork, Poultry.
After many sleepless nights of mixing herbs and spices, we found the perfect blends to enhance the flavor of our meats and sides.
4.7 oz.
Ingredients
Sugar, Salt, Spice, Onion, Garlic, Ghost Chili Pepper, Guajillo Chili Pepper, Green Chili Pepper, Citric Acid, Mustard, Jalapeño, Soybean Oil