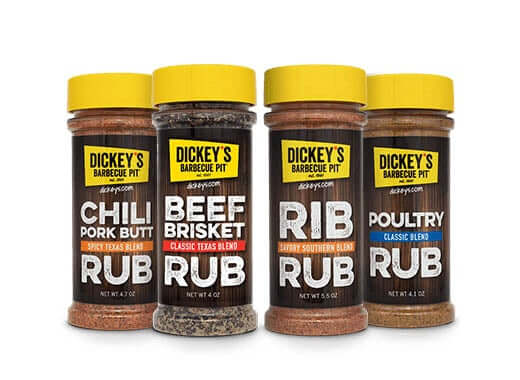 This pack has all your key proteins covered - Brisket, Ribs, Poultry and Pork.
Fire up the pit and become pit master with these staple rubs...
Chili Pork Butt Rub - Spicy Texas Blend. With just a pinch of sweet heat, this rub leaves your taste buds wanting more. Rub into pork or poultry before cooking for a kick of flavor.
Beef Brisket Rub - 4 oz. - This classic Texas Hill Country brisket blend of spices creates a perfect, delicious outer bark.
Rib Rub - 5.5 oz. - This savory spice blend is the same Rib Rub used in all Dickey's Barbecue Pit stores. Our savory southern blend of spices will turn your fall off the bone ribs into competition level barbecue.
Poultry Rub - 4.1 oz. - Classic Blend. Nothing plain about our signature poultry rub. A crafted balance of spices and herbs blended to enhance the natural flavor of your chicken and turkey.